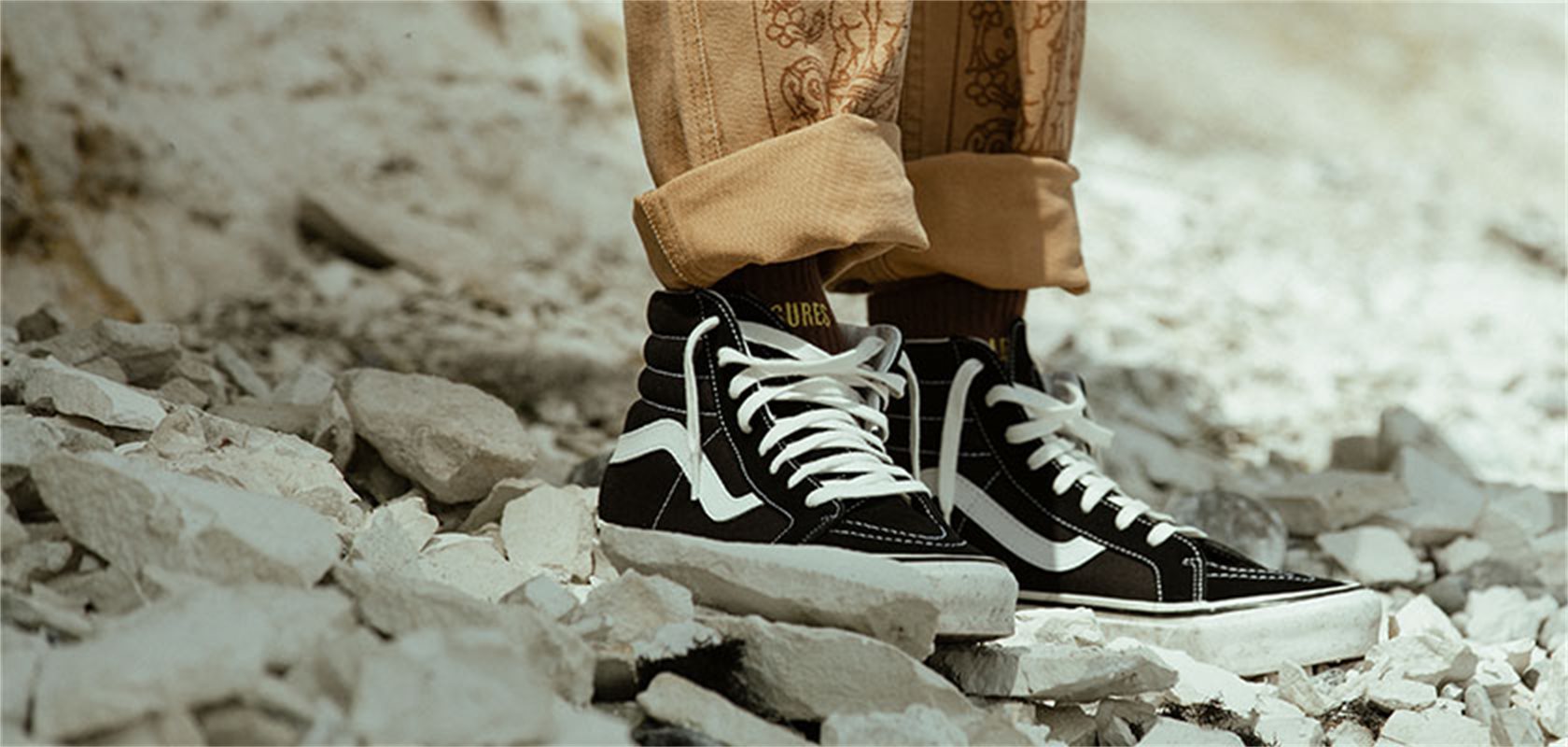 Vans shoes and sunglasses for the stylish man
Less is more. This really is the mantra at Vans and has been since 1966, with the strict design discipline of their sneakers. It's obvious that simple and stylish are the key words at Vans, which is particularly well-known for their ultra-cool sneakers. But gradually Vans has started to design clothes too and why change or build further on their shoe design philosophy when it works so well? Vans has made it simple with a rubber sole and canvas upper. It is the simple recipe for good style, and they can also play a little with both patterns and colours of the canvas, so that you get a shoe that perfectly matches your own style. This brand makes so many different styles that you simply have to invest in more than one pair of shoes, so you are sure of having a pair for every occasion.
Get the best of two worlds with a pair of Vans shoes
Here you get a pair of shoes where functionality and sport longevity are mixed really well with the stylish and fashionable look. It's true to say that often simplicity is the way to success, and this is the case with Vans shoes. The ingredients are a rubber sole and a canvas upper – and hey presto! You have the coolest pair of shoes. They are practical in all conceivable situations – and of course even when you are standing on a skateboard. You get great both style and amazing comfort. The high street today is filled with low sneakers and hip-hop, so without doubt it's the right choice for you to purchase a pair of Vans shoes. Find them here at quint-shop.com.
Create your own attitude with a pair of Vans sunglasses
There is nothing that creates a cooler attitude than a pair of sunglasses and when summer is so close, you can almost smell it, then of course you have to have a pair of Vans sunglasses. It is absolutely the best way to enhance your cool style and above all, the lines of your face. As a man you have to look sharp once in a while and what is better than a pair of new sunglasses to do it? When you wear a pair of Vans sunglasses you know that you will look your very best this summer because the quality and choice of material are first-class. There are also a lot of styles, so you can be sure to find the pair of sunglasses that are perfect for you. Find your new pair of sunglasses in our online shop.
Buy Vans sneakers online at quint-shop.com
The people behind Vans dreamed of making a shoe they could sell directly to customers rather than through a middleman who had no personal relationship with the shoes – luckily they dropped that goal so that we at qUINT can sell to you these so-nice Vans sneakers and many other cool products from this brand, such as Vans T-shirts. Check out our online shop and find inspiration for your next purchase. See you soon!