Climate compensated freight and delivery
At qUINT we aim to minimise our carbon footprint through proactive and compensatory initiatives. Therefore, all our orders are packed in sustainable and recyclable material, then shipped and returned with climate-compensated freight.
qUINT opened its first store in 1999, and for us it's about much more than just selling the best selection of streetwear for guys. We're proud of the initiatives we've already implemented in our business. But we have a desire to be even more socially responsible in the future, and we hope our customers will join us on the journey.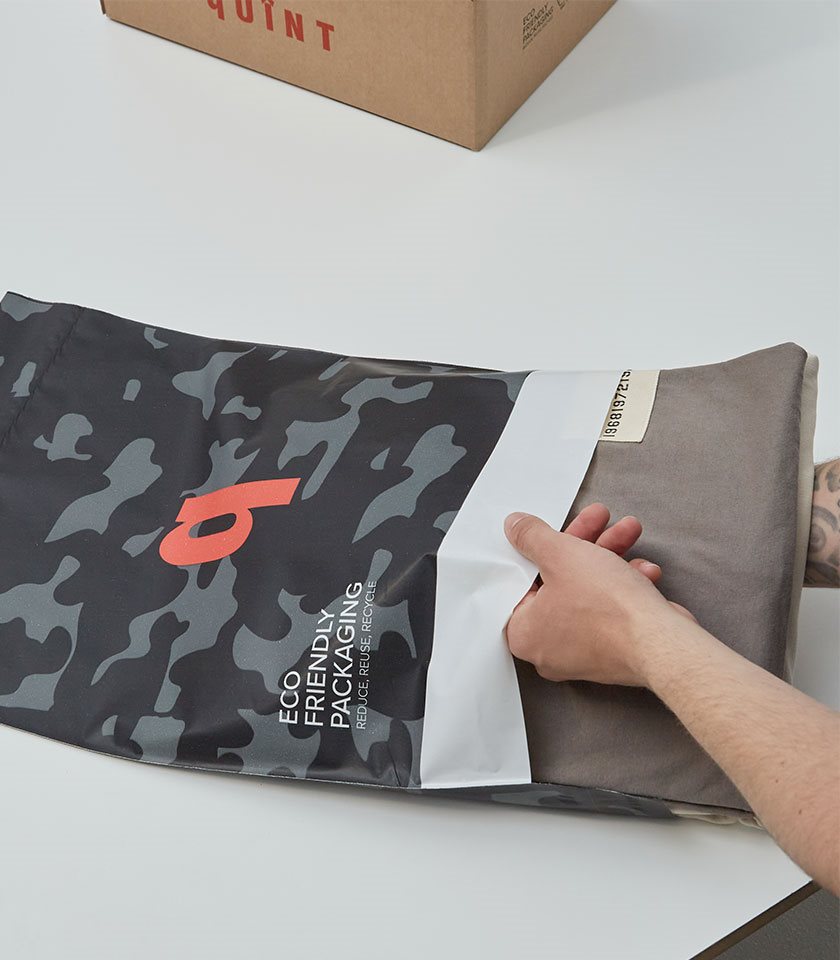 No one is perfect, but we can all make a difference
As we grow, our online streetwear universe is becoming increasingly important in terms of the environmental impact of the choices we make. Even small positive initiatives and choices can have essential consequences in the long run. We know that the word sustainability can be a complicated and opaque concept, so we've created this page to try and highlight, in an honest and transparent way, some of the steps we're taking towards a more sustainable webshop. Below you can read about the two biggest carbon emitting activities from our webshop, as well as the choices we are making to reduce emissions: our packaging and our shipping.
Sustainable and recyclable packaging
When you shop on our website, your order is always sent in plastic bags made from recycled plastic or in FSC-labelled cardboard boxes. The FSC label is a guarantee that the cardboard comes from forests where no more wood is felled than the forest can reproduce. We've also designed our packaging to be reusable in case you want to return your product - minimising the use of packaging. When we receive returned goods, we always assess whether we can reuse the packaging for internal use, otherwise it is sent to the recycling centre.
How we make our freight more sustainable
When you shop at our webshop, your order will be picked up by one of our three partners - PostNord, GLS and DHL - who will deliver your orders to you. Although our three/two partners work annually to reduce their carbon footprint by, for example, using solar energy and electric cars, in isolation our webshop's biggest carbon footprint comes from freight.
We compensate for our shipments by supporting our partners' nature projects every time we send a package. All our PostNord parcels are climate compensated through their own unique project in Hals Mose in cooperation with the Danish Nature Foundation. You can read more about it here.DHL Express has a similar setup, which you can read about here. To compensate for our consumption of GLS parcel transport, we have chosen to buy our own trees that absorb CO2, and have recently chosen Treedom, as a partner. You can see and read about our trees her.